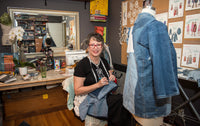 Paganoonoo Tutorials
Have you looked at upcycled clothing and thought "I'd like to do that!" Collected garments to remake but don't know where to start? Not sure how to get a good fit? Want your results to look professional? You are in the right place! Paganoonoo tutorials take you through every step, from selecting materials, to sizing, though the sewing process with step-by-step illustrated instructions.
Testimonials
Michelle has a spectacular way of breathing new life into discarded shirts. It is truly amazing how wonderful the transformed pieces turn out. 

Christine Groom
So easy, so fashionable!  I get compliments all the time on the ones I've made. 

Marlene Randall
What I really love is that when I wear them, people ask where I got them. I love Paganoonoo designs as they are for everyone. 

Jane Wolfe
Find out which Paganoonoo is best for you.